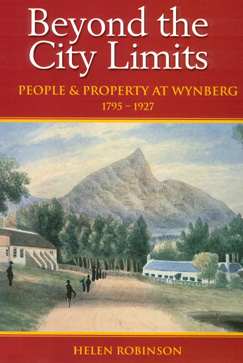 CURRENTLY OUT OF PRINT
Wynberg is an old town which nestles behind the famous facade of Table Mountain at the Cape of Good Hope.  Its origins lie deep in the 17th Century and its history is filled with a parade of colourful people and events which influenced the growth, not only of this beautiful village but of the Cape in general.
Wynberg owes its prosperity to the military whose presence there from the early days of the second British Occupation contributed to its growth.  Before this it was a sparsely populated farming community started by the establishment of Jan Van Riebeeck's farm Boscheuwel and later Hermann Weeckens' De Oude Wijnberg, from which the village takes its name.
Apart from the soldiers who were garrisoned on the hillside, the village also attracted many prominent  politicians, clergymen and academics who came 'to get away from it all'.  British civil servants and their families going home to England from India on long leave often broke their journey at the Cape and it was to Wynberg that many of them went. Here was a little oasis not very far from all the dusty hustle and bustle of Cape Town. Far enough to smack of rural life and green enough to remind them of home.
And so the village grew and with it came the skilled artisans and service providers in response to the everyday needs of the burgeoning citizenry of the area.
A vibrant town, a fascinating history.
Helen Robinson has written a definitive historical account of this influential town.  Impeccably researched and well illustrated, this book is a must for anyone interested in the history of the Cape.  For the family historian whose ancestors might have been there –  this book is a real treat.
Printed format only.  271 pages. Illustrated.
Other works by Helen Robinson include "Wynberg – A Special Place" which covers the years from about 1900 to the present day.