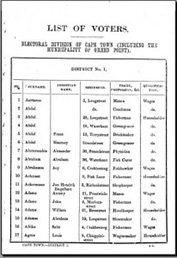 This publication covers the following areas of the Western Cape:
Please note that in Cape Town Districts 1 – 6 including Green Point, the Surname, Given Name, Residence, Trade or Profession is given. The rest of the electoral districts only give Surname, Given Names and Place of Abode. There are approximately 24,000 individuals listed.
CAPE
Liesbeeck River, Tygerberg & Kuils Rivier, Palen & Riet Valley, Koeberg 1 & 2, Blueberg, Downs no 1& 2, Rondebosch, D'Urban, Newlands, Wynberg, Constantia, Diep River, Simonstown, Elsjes Bay, Noordhoek, Wildschutbrandt.
PAARL
Southern Paarl, Northern Paarl, Klein Drakenstein, Dal Josephat, Wellington, Wagonmakers Valley, Groenberg, Paardeberg, Agter Paarl, Groot Drakenstein, Groot Drakenstein Mission, Institution Pniel, Franschoek.
STELLENBOSCH
Municipality of Stellenbosch, Klapmuts, Bottelary, Moddergat, Eerste River, Hottentots Holland.
WORCESTER
Worcester, Wagenboomsrivier, Goudini, Voorste Bosjeveld, Middel Bosjeveld, Over Hex River, Robertson, Achter Hex River, Kelin Roggeveld, Kleine Zwartberg, Tulbagh, Before Twenty-Four Rivers, Breede River, Warm Bokkeveld, Voorste Omtrek of Cold Bokkeveld, Achterste Omtrek of Cold Bokkeveld.
MALMESBURY
Malmesbury, Middel Zwartland, Voor Zwartland, Paardeberg, Mosselbanks River, Achter Riebeeks Kasteel, Voor Riebeels Kasteel, Achter Zwartland, Honingberg, Zoutrivier, Groenekloof East, Groenekloof, Zwartwater, Saldanha Bay, Schryvershoek, St. Helena Bay.
PIQUETBERG
Village of Piquetberg, Voor Piquetberg, Verloren Vley, Achter Piquetberg, Great Berg River, Twenty Four Rivers.
NAMAQUALAND
Haardeveld,, Camiesberg, Onder Camiesberg, Springbokfontein, Onder Steinkopf, Kamaggas, Port Nolloth, Pella.
CLANWILLIAM
Clanwilliam and Environs, Clanwilliam, Olifants River, Langevalley, Bidouw, Mouth of Oliphants River, Voor Hantam, Achter Hantam, North under Bokkeveld, South under Bokkeveld, North under Roggeveld, South under Roggeveld.
SWELLENDAM
Swellendam, Klippe River, Kluitjeskraal, Breede River, River Zonde End, Potteberg, Heidelberg, Karnmelks Rivier, Zuurbrak, Tradouw, Robertson, Before Cogmanskloof, Boschjesveld, Montagu, Behind Cogmanskloof, Touw.
CALEDON
Caledon, Zwart River, Upper River Zonder End, Bot and Palmiet Rivers, Lower River Zonder End, Goudini, Uilenskraal, Bredasdorp, Blomfontein, Napier, Karsrivier, Bredasdorp, Elim, Zoetendalsvallei.
RIVERSDALE
Riverdale, Kafirskuilsriver, Vetterivier, Krombeksrivier, Onder Duivenhoksrivier, Valschrivier, Buffelskraal, Fonteinsvley, Langberg, Springfontein, Grootzwaartberg.
OUDTSHOORN
Grobbelaars Rivier, Upper Oliphants River, Lower Oliphants River, Wynands Rivier, Cango, Gamka's Vlakte, Attaquaskloof.
GEORGE
George town and environs, Outeniqualand, The Lakes, Klippe nad Doorn Rivers, Before Longkloof and Camnasie, Upper Longkloof, Lower Longkloof, Antoniesberg, Municipality of Aliwal South, Environs of Municipality of Aliwal South, Mouth of Gouritz River, Upper Gouritz River, Before Attaquaskloof, Brak River, South Middelveldt, Kynsna, Goukamma, Swart River, Plettenberg Bay, Paardekop, Keurboomsrivier.