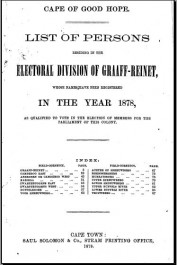 This publication covers the following areas of the Eastern Cape:
Please note that only in Grahamstown does it include the Surname, Given Name, Residence, Trade or Profession. The rest of the electoral districts only give Surname, Given Names and Place of Abode. There are approximately 24,000 individuals listed.
GRAAFF-REINET
Graaff-Reinet, Camdeboo East, Aberdeen or Camdeboo West, Kariega, Zwarteruggens East, Zwarteruggens West, Buffelshoek, Voor Sneeuberg, Achter Sneeuberg, Rhenosterberg, Murraysburg, Upper Sneeuberg, Lower Sneeuberg, Upper Buffels River, Lower Buffels River, Trouwberg.
RICHMOND
Richmond, East Uitvlugt, West Uitvlugt, Middelwyk, South Winterveld, North Winterveld, Hope Town, North Middenveld, Rhenosterberg, South Middenveld, De Hoop, Beervlei.
BEAUFORT
Beaufort, Nieuweveldt 1-3, Gouph 1- 5, Prince Albert, Prince Albert (Gouph 3 + 4), Zwartberg, Tarka.
VICTORIA WEST
Victoria West, Uitvlugt, Nieuweveldt, Upper Nieuweveldt, Doornberg, Karreenbergen, Pramberg, Fraserburg + Rietvlei, Zakrivier, Karreeka + Rhenoster Riviers, Komsberg, Groot Vischrivier.
PORT ELIZABETH
Port Elizabeth, Bushy Park.
UITENHAGE
Uitenhage, Van Staadens River, Eiland's River, Coega, Sundays River, Great Winterhoek, Klein Winterhoek, Voor, Baviaanskloof, Baviaanskloof, Jansenville, Zwarte Ruggens, Riet Rivier, Alexandria, Oliphansthoek, Bushmans River, Quagga's Flat, Gorah, Zuurberg, Zuurbron (Humansdorp), Zekoe River, Tzitzikama, Zuuranys, Gamtoos Rivier, Kromme River, Hankey.
GRAHAMSTOWN
Albany
North Fish River, East Fish River, Upper Riebeek, Lower Riebeek, Lower Bushmans River, Bathurst, Southwell, Cuylerville, Clumber, Kowie West, Frazer's Camp.
VICTORIA EAST
Alice, Upper Tyumie, Lower Tuymie, Calderwood, Fort Willshire, Funah's Kloof, Peddie, Buckkraal, Newcastle, Gualana, Keiskama, Begha.
SOMERSET EAST
Somerset East, Great Fish River, Brak River, Vogel River, Zwagershoek, Boschberg, Bedford, Baviaansrivier, Mankazana, Cowie, Kaga, East Riet Rivier.
CRADOCK
Craddock, Blaauwkrantz, Tarka, Vlekpoort, Brakrivier, Achtersneeuberg.
FORT BEAUFORT
Fort Beaufort, Blinkwater, Koonap, Adelaide, Winterberg, Kroomie, Elands River, Readsdale, Philipton, Balfour, Buxton + Upper Blinkwater, Upper + Lower Mancazana.
COLESBERG
Colesberg, Hantam, Upper Sea Cow River, Lower Sea Cow River, South Middenveld, Hanover, Middelburg, Naauwport, Willem Burghers River, Rehnosterberg, Zuurberg.
ALBERT
Burghersdorp, Zuurberg, Achter Zuurberg, Upper Groote Rivier, Lower Groote Rivier, Lower Stormberg, Bamboesberg, Middelburg.
KINGWILLIAMSTOWN : WARDS 1 – 18
EAST LONDON : WARDS 1 – 10
QUEENSTOWN
Queenstown, Bongolo, Klaas Smits River, Wildschutsberg, Keesensdoorns, Tarka North, Upper Zwartkei, Bradford, Kamastone, Whittlesea, Buccleugh, Mapassa 1 + 2, Bontebok Flats, Tambookeiland, Cathcart.
ALIWAL NORTH
Aliwal North, Barnardspruit, Buffelsvley, Kraairivier, Klipspruit, New England, Herschel.